Miller Industries Proudly Supports Regional Susan G. Komen Foundation Affiliate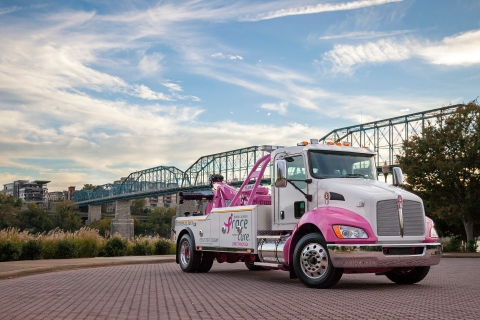 Custom built with Breast Cancer Awareness Month in mind, Miller Industries produced a bright pink Century 3212CX wrecker on a Kenworth T440 chassis from MHC Kenworth of Chattanooga to help raise awareness for breast cancer during the month of October. The truck was on display during several events throughout the greater Chattanooga area as part of a partnership with the regional Susan G. Komen Foundation affiliate to help raise awareness for their annual Komen Chattanooga Race for the Cure event and promote general awareness for breast cancer.
"Believe it or not, a big, bright pink tow truck attracts a lot of attention when going down the road." said Todd Harless, marketing manager for Miller Industries. "For this reason, we thought the truck would be a great resource to help the local Susan G. Komen affiliate promote their annual Chattanooga race and raise awareness for breast cancer." Harless continued. "The pink tow truck looks amazing and certainly attracted a lot of attention! Having the tow truck join us on-site during our promotional events led to more registrations for our race," said Anita Stewart, Director of Community Engagement for the Susan G. Komen Central Tennessee Affiliate.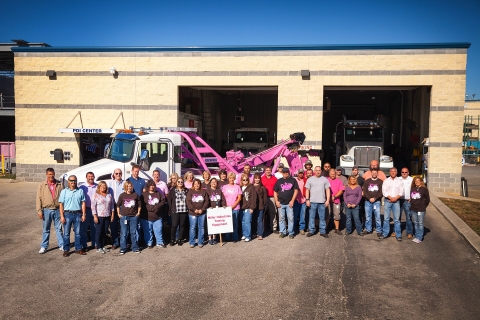 In addition to the pink tow truck being used to help promote the local Race for the Cure event in Chattanooga, Miller Industries plans to contribute $10,350 to the Susan G. Komen Central Tennessee affiliate with funds raised through their WeTow charity tow-hook bracelet program launched earlier this year.
Miller Industries Towing Equipment (NYSE: MLR) is the world's largest manufacturer of towing and recovery equipment. Miller Industries offers a variety of products from light-duty units with 8,000 lb. tow ratings to 75-ton heavy-duty rotator units. All of which fall under the Miller Industries family of brands of Century®, Vulcan®, Chevron™, and Holmes®. For more information about Miller Industries and their products follow them on social media, visit their website at millerind.com.
Topics: Charity, Breast Cancer Awareness, Susan G. Komen, Pink Truck