Miller Gives Back to the DAV- Disabled American Veterans
As part of the WeTow campaign, we were honored to donate proceeds totaling over $10,000 to the DAV- Disabled American Veterans. The DAV is a national non-profit organization that helps disabled veterans gain access to employment, benefits, and healthcare. The DAV serves to empower veterans with disabilities to lead high-quality lives through the many services they offer.
The WeTow campaign aimed to raise awareness of the towing community's support for the many charities across our nation, as well as the good deeds towers provide within the communities they serve. Through the sale of custom tow hook bracelets, Miller Industries chose to promote the awareness of six national organizations: Susan G. Koman, DAV- Disabled American Veterans, The Miracle League, Shriners Children's Hospital, International Towing Recovery Museum & Hall of Fame, and Wall of the Fallen Survivor Fund. The tow hook bracelets are available for purchase at all participating Miller Industries distributors, and the money raised from the sale of the bracelets made it possible for this donation.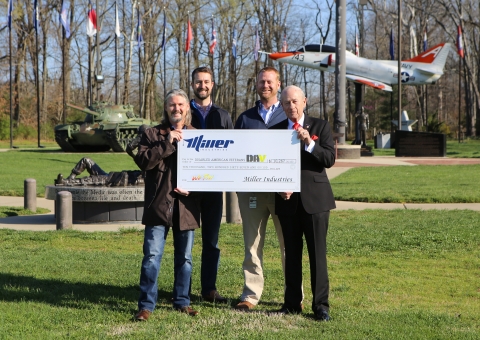 Topics: miller industries, DAV, Disabled Veterans, Disabled American Veterans