Miller Industries Wins CRMA 2018 Company of the Year Award
We here at Miller Industries were awarded the prestigious Chattanooga Regional Manufacturers Association (CRMA), Manufacturers Excellence Award for 2018 Company of the Year. The CRMA is singularly focused on the support of Tennessee's manufacturers, and has been doing so since 1902. This award comes with having to meet tough criteria ranging from manufacturing proficiencies, employee safety, health, & training, a high level of commitment to improvement, as well as community involvement.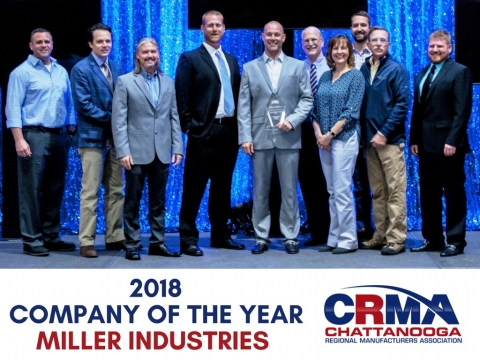 We are currently wrapping up an over $40 million expansion to our facilities, complete with eco-friendly paint facilities, energy-efficient all-LED lighting, an employee training facility, and a state-of-the-art welding academy.
This, along with other commitments to safety and quality manufacturing, engagement with our employees, and being a good steward to our communities, are what helped us achieve this award of excellence.
The Chattanooga Regional Manufacturers Association works to enable cooperation, competitiveness, and profitable growth for all Tennessee manufacturers to create an enriched economic future for all. Miller Industries is proud of our membership in the CRMA and is grateful for such a prestigious award.
Topics: miller industries, CRMA, Award