Maintenance Monday: How to Fix Your Leaky Car Carrier Toolbox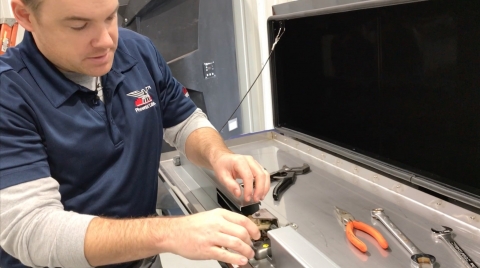 Does the toolbox on your car carrier leak? It could be because your toolbox doors aren't closing tight enough against the rubber seal. This video demonstrates how to adjust the latch on the Phoenix USA® toolbox to achieve a proper seal. Over time the bulb-type rubber seal on your carrier toolbox can wear down, resulting in the need to tighten the latch on the toolbox. Provided the rubber seal isn't damaged and doesn't need to be replaced, you can simply tighten the 3-way latch to help keep water and other contaminants out of your toolbox. If your rubber bulb-type seal needs to be replaced, you can order that seal with part number 903 2157 from your local Miller Industries® distributor. We hope you enjoy this helpful video demonstration.
CLICK HERE: To watch the full product overview video on the Phoenix USA® tool boxes.
For more information on this product or other Miller Industries products please contact your local Miller Industries Distributor. Our network of knowledgeable distributors is the largest in the entire towing & recovery industry and they are ready and waiting to help with all your equipment needs.